So you want to learn to ride?

So it's never too late to learn to ride and there are a number of options available to you, depending on numerous factors, from when did you pass your driving test (believe it or not), to what engine size would you like to ride.

Completing a Compulsory Basic Training course, (CBT), may be all you need to get you up and running on two wheels. Where you will be allowed to ride a scooter or motorbike up to 125cc engine size, while displaying 'L' plates and a few other restrictions:- CBT motorcycle and moped training - GOV.UK (www.gov.uk)

Why not try the FREE RideFree e-learning modules for more information and advice if thinking of learning to ride:- South Yorkshire Safer Roads Partnership (sysrp.co.uk)

But if you are looking at being able to ride any size scooter or motorbike, then you will need to complete the full motorcycle test, (often referred to as DAS, Direct Access Scheme), which requires the completion of a number of different steps, such as a Motorcycle Theory Test, then Mod 1 and Mod 2 stages. Check out the link for more information:- Direct Access Scheme for motorcycle riders (safedrivingforlife.info)

South Yorkshire has some great local Training Schools, so if you are still unsure then give them a call or drop them an email. They will be happy to discuss in more detail what's involved, the options available to you and the cost of the different training packages. BUT don't be afraid to ask questions, "What's including in the training? Is it 1to1? How long will I get on a bike?" for example, the cheapest is also not always the best deal in the long run.

The SRP are also running a fantastic FREE offer at the moment, to improve rider knowledge of the Highway Code and Hazard Perception, with 3-months free access to the award-winning DTS App. So if you are revising for your full Motorbike Theory Test, the App provides an almost limitless supply of mock theory questions and hazard clips, which keeps track of your scores and can also suggest areas where you may need to revise further.
Clink on the link and apply for your FREE discount code:- South Yorkshire Safer Roads Partnership (sysrp.co.uk)

Also, check out our brand new series on YouTube with the local Mech'It Better Team, which features essential basic maintenance advice for new riders, both on scooters and motorbikes, from basic pre-ride checks to sorting out a flat battery:- Ep4 - How to check your scooter or motorbike electrics and battery - Mech'It Better & SYSRP - YouTube

Long time rider, but what's next?

Would you pass your motorbike test today? When was the last time you looked at a Highway Code book? Can you complete a u-turn without using your feet? When the speed limit changes to 30mph for example, are you doing 30mph before, at, or after the sign?

As riders we have to be on top of our game, every single ride, and pushing yourself to improve and be a better rider is something that continues all the way through your riding life. There are various different options available in South Yorkshire, depending on your budget, time constraints or how far you want to push your learning skills.
The ERS scheme is a flexible nationwide initiative to provide bespoke training via your local Training School, depending on your needs, the sessions can be anything from half or a full day out with an instructor. Topics can range from cornering, filtering, riding with a pillion, slow riding skills, using your bike for business, etc. Click on the link for more information and Schools in our area involved with the scheme:-
DVSA enhanced rider scheme: How the scheme works - GOV.UK (www.gov.uk)
BikeSafe


One day refresher style session with the South Yorkshire Police, which includes a short classroom session followed by a ride-out with a SY Police Rider. Through the day various techniques and riding skills will be discussed in an informal manner, with an end-of-day assessment providing feedback on the negative but also positive aspects of your riding. With a strong input on 'where next' to learn and improve your riding even further. For further information or to book a session check out our page:- South Yorkshire Safer Roads Partnership (sysrp.co.uk)
South Yorkshire is pretty lucky in having not one but two motorcycle IAM groups, offering everything from rider training to a full calendar of social ride-outs, from day trips to the coast to full-on tours of Europe and beyond. The groups offer a more long-term package to improve all aspects of your riding, via regular 'ride-outs' with qualified 'Observers' and discussions on the Highway Code and riding techniques. For more information check out the main IAM page:- Advanced driving and riding courses | IAM RoadSmart
Both our local groups also offer FREE taster sessions, before signing up for the full membership, follow the links on the right of the page for more information about the Sheffield IAM or Rotherham IAM motorbike groups.

There are also numerous companies and organisations just outside of South Yorkshire that also provide help, advice and training programmes to improve your skills and techniques, such as Rospa, British Superbike School or i2i.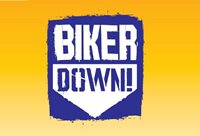 The SRP team, along with South Yorkshire Fire and Rescue, also run FREE BikerDown! Sessions in the county, this is a national scheme to improve the scene management and first-aid skills of riders. If there is a road-traffic-collision then the likely hood is that we, as riders, would filter to the front of any queuing traffic, and BikerDown! provides you with the basic skills to help and possibly make a life-saving difference to people at the scene of a road collision. Check out our main page for more info and how to book:- South Yorkshire Safer Roads Partnership (sysrp.co.uk)

For all the latest special offers, discounts and campaigns, then follow us on social media @SYSaferRoads.