Eco-driving

Join the growing band of drivers who are eco-driving to save money at the fuel pump, become a safer driver in the process AND help the environment. Our simple eco-driving tips will help set you on the right road.

Have a look at our latest feature in September's UnLtd magazine by clicking on the article below: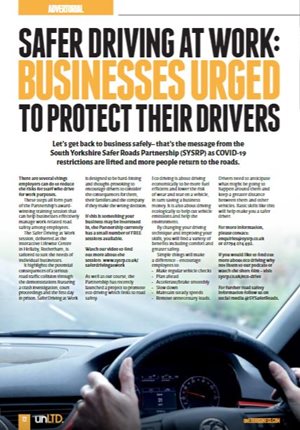 Video:



Podcast:

Join our eco-driving warriors, Wendy Abbott and Joanne Wehrle, who have been discussing the benefits of eco-driving and sharing their top tips and techniques to help us drive more eco.



So why is eco-driving linked to road safety?
Some of the spin off benefits of eco-driving are greater safety and comfort as a result of the driving techniques and skills which are promoted. Simple things like slowing down, planning ahead and anticipating what might be going to happen, and keeping a greater distance between you and the vehicle in front will all help to make you a safer driver. That's why the Safer Roads Partnership is keen to support eco-driving and promote the benefits to individual drivers as well as business fleets.

What can drivers do to make their vehicle and trips more fuel efficient?
Today's cars are 23% more efficient than they were just 10 years ago, but there are still a few easy things we can do to make our vehicles more fuel efficient.
Keep your vehicle well serviced and check oil levels regularly. Always use the right specification of engine oil (check your handbook) keep Correctly maintained vehicles operate more efficiently and emit less carbon dioxide.

Check your tyres – under inflated tyres can increase your stopping distance, produce more rolling resistance and hence higher fuel consumption as well as increasing tyre wear.

Increase your following distance – following the vehicle in front too closely means you will have to brake a lot more because you won't be able to see as far in front. The more you brake, the more fuel you use.

Look ahead to anticipate traffic flow, helping to reduce the number of gear changes. Plan to keep moving, if it is safe to do so, to maintain the forward momentum of your vehicle.

Accelerate and brake smoothly to improve fuel economy and engine efficiency, as well as giving you a more comfortable ride.

Maintain a steady speed, if it is safe to do so, using the highest gear possible. This helps to burn fuel more economically. Shift into a higher gear as soon as possible, around 2,500rpm for petrol engines or 2,000 rpm for diesel engines

Coasting – this is not recommended as you don't have full control of your vehicle. You can't suddenly accelerate out of a tricky situation. You lose engine braking and risk overheating the brakes. Coasting won't save fuel either these days
Actions such as checking your tyres and having a well-maintained vehicle, regulating your speed, planning further ahead to look for possible hazards and not driving too close to the vehicle in front will help you to be a safer driver.

How much can drivers expect to save by using eco-driving techniques?
By employing these techniques, you could save 10-15% on your fuel consumption. Most new cars have a trip computer to enable you to track fuel consumption so you can check your current fuel consumption and then go back to compare once you start to introduce these eco-driving tips and skills.
Check out some of the following websites for more information:
How can the Safer Roads Partnership help?
The Safer Roads Partnership works with local businesses, especially those who have staff driving for work purposes, to help them reduce the on-road risks from their vehicle fleet. We run classroom sessions for managers and drivers looking at the importance of having a Safer Driving at Work policy. We consider the potential consequences if employees are involved in a serious road traffic collision whilst driving for work and what steps can be taken to avoid this.

When COVID19 restrictions allow we shall also be launching a practical eco-driving session for businesses to send their staff on.

In the meantime, check out more safety advice and information for drivers on our website at sysrp.co.uk/saferdrivingatwork