Keeping people safe on their journeys is a priority for the Safer Roads Partnership. Here are some tips and information when carrying children in a vehicle.
Whether you're a parent, relative, friend or carer, if you carry children in a car you'll need to understand the legal requirements.

The law states that 'all children are legally required to use an appropriate child restraint until they are 135cms tall or 12 years (whichever comes first) when travelling in any car or goods vehicle'.
'Babies up to 15 months (up to 83cm tall) must be rear-facing'

There are 5 main ways to keep children safe in a car:
Choose a car seat suitable for your car and the child's age/size.

Fit the seat properly in the car – seek professional advice if you are not sure.

Make sure the child is strapped in correctly for every journey. Top Tip : always make sure you wear your own seatbelt – children learn by example.

Keep your children rear-facing for as long as possible – don't rush to move them to a bigger, forward-facing seat.

Children are safer travelling in the rear seats rather than the front seat of a car, if possible.
Only EU-approved weight-based child car seats can be used in the UK. These have a label showing a capital 'E' in a circle and 'ECE R44'. The i-size seats are designed to keep children rearward-facing until they are at least 15 months old and the i-size regulation is R129.

Because children grow and develop at different rates, child car seats are sold by group categories and it is the weight of the child that is most important when deciding what type of child seat to use.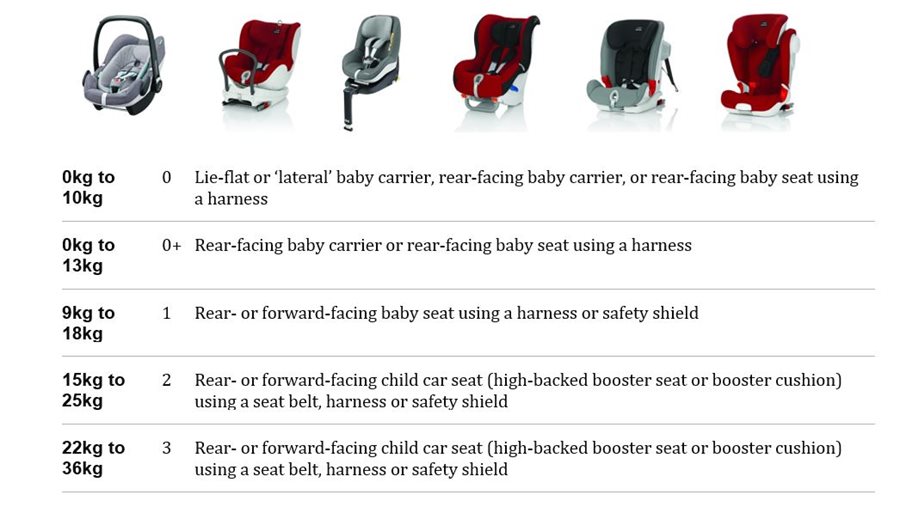 Not every seat fits every car! Whether seat belt or ISOFIX, it is essential to ensure your vehicle and child's car seat are compatible and that the seat fits correctly. If a seat is not fitted correctly it will not be able to protect your child properly in an impact.

Some Top Tips:
Remember a rear-facing seat cannot be used in the front seat with an active airbag. The airbag could be deactivated if needed, although placing the child in the rear of the car is better practice. If you do deactivate the airbag, just remember to reactivate it afterwards.

It is safer for children to stay in each stage seat until they reach the maximum weight limit for their current stage, not to be moved up a stage as soon as they reach the minimum weight limit.
Harness height
If a seat is REAR FACING the harness should be level with or just BELOW the child's shoulders.

If a seat is FORWARD FACING the harness should be level with or just ABOVE the child's shoulders
Harness tension
Harnesses should be tight enough on the child that you can just get 2 fingers between the child and the harness – with your fingers lying flat against the child.

Seat wobbles when using seat belt restraints

The child seat should not wobble or move more than 1 inch. If you have pulled the seat belt as tight as possible and the seat still moves about, it is possible it is not fitted correctly or compatible with your vehicle

Other websites for more child car seat information :

https://www.gov.uk/child-car-seats-the-rules
https://www.goodeggcarsafety.com/
https:// www.rospa.com/road-safety/advice/vehicles/car-seats
https://www.think.gov.uk/wp-content/uploads/2020/07/DfT_SeatBeltBooklet.pdf

You can also download the full Department for Transport guidance here.