Fuel
Keep your fuel tank at least one quarter full to avoid running out on your journey. This will help you to avoid breaking down and potentially putting yourself and others at risk.

Lights
Check headlights, indicators, reversing lights, fog lights and brake lights work properly.

Oil
Maintaining the correct oil level is essential to prevent your engine from seizing up and breaking down. Also check brake and power steering fluid. Do this when your engine is cold.

Water
Keep those windshield clear - check that the washer fluid is regulary topped up.

Engine coolant helps to stop your engine overheating and freezing. Check this every couple of weeks so you can spot any problems early. It could save you a lot of money and hassle. Do this on the flat and when the engine is cold!

Electric
Check your windscreen wipers and other electric components like the radio, and air con.

Rubber
The tyre tread must be a certain depth depending on the type of vehicle. For cars, light vans and light trailers you must have a tread depth of no less than 1.6 mm..

One of the easiest ways to check your tyre tread is to place a 20p coin into the main grooves of the tyre tread. If you cannot see the raised outer rim of the coin (with the words "TWENTY PENCE" engraved), then the tyre has sufficient tread depth.

Check your tyres regularly for any defects. You should be looking for any wear, cracking, bulging, and cuts.

Underinflated or overinflated tyres can adversely affect your braking distance, steering, fuel efficiency and the lifetime of your tyres.

Your vehicles handbook for optimum inflation measures.

Also, wiper blades don't last forever, check for splits and cracks and replace when needed.

Yourself
Plan your route and plan breaks during your journey.

Think, am i fit to drive? Drink, drugs, fatigue, and emotional state all have a huge impact on how safely we drive.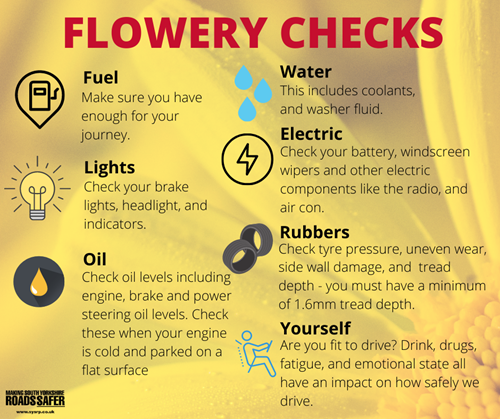 Useful links