Learner Drivers

Applying for Your Provisional Licence

Most people can start learning to drive when they're 17 years old. To apply for your provisional driving licence visit the Driving and Vehicle Licensing (DVLA) online. It costs around £34 to apply online and you'll need to provide:
an identity document unless you have a valid UK biometric passport

addresses where you've lived over the last 3 years

National Insurance number if you know it
Your licence should arrive within a week or so if you apply online. It may take longer if DVLA need to make additional checks.

Driving Instructor

It is important to find an instructor that you get on with. Don't go for the cheapest. You might have to try a few before you find the one for you. This is the reason we recommend not jumping into deals where you bulk buy lessons on a discount. Avoid getting stuck with an instructor that you don't get on with and have a few lessons before committing to a long term deal.

Anyone you pay to teach you to drive must be a qualified and approved driving instructor (ADI) or a trainee driving instructor. Instructors must display a badge in their windscreen to prove they're registered with the Driving and Vehicle Standards Agency (DVSA) - a green badge if they're a qualified driving instructor, or a pink badge if they're a trainee.

Instructors set their own prices for driving lessons - there's no minimum or maximum cost.

There's no minimum number of lessons you must have or hours you must practise driving. The DVSA suggests that you have around 44 hours of professional lessons to pass your driving test. This is an average figure, it's important to remember that everyone's different.
Before getting behind the wheel become familiar with the highway code. This will help you understand what the rules of the road are.

Get a good night's sleep before your lessons.

Wear the right footwear - a comfortable pair of shoes can make all the difference. Avoid heels or heavy boots. Something thin, narrow will help you get the feel for the pedals and the pressure you need to put on them.

Theory Test

Practise, practise, and practise some more. The theory test is just as important as the practical test. It is not common sense; you need to put in the study time. It covers a wide range of important topics from road signs, hazard perception to rules of the road. The practise you put in here will pay off. It will not only help you pass your theory test first time, saving you money, but it will make you a much better and safer driver in the long term.
You will have to pass you theory test before you can book your practical test. Your theory test pass certificate has an expiry date - if you don't pass your practical within two years of your theory you have to retake the theory test again. To book visit the .gov website here

To help you pass you theory with flying colours we are currently offering you three-months access to the award-winning Driving Test Success learning platform. Click here to find out more.

Booking Your Practical Test

Tests dates can be booked up for weeks or even months. Chat with your instructor to find out when they think you will be test ready. Don't leave this to the last minute. Get your test date sorted out, and then work your lessons towards it.

According to the DVSA, it takes most people 44 hours of lessons to learn how to drive, plus 22 hours of practising. But, it's important to remember everyone is different - you may need more than this.


It Can Be Tricky!

It's likely that you'll struggle with at least one major skill or area during your driving lessons. Gear changing, clutch control, manoeuvres, to negotiating junctions and roundabouts. It takes time to gain the skills to do all these things, so don't panic. It can be disheartening at first and might seem a struggle to get to grips with driving but listen to your instructors advice and keep persevering - you will get the hang of it!
Practising Outside of Lessons

If you are able to get some lessons with friends or family member it will really help get you test ready and help master your skills. The DVSA recommend you get around 22 hours practice outside of your standard driving lessons. Whoever you get to take you out they must be over the age of 21 and have a licence for the type of vehicle you're learning in (which they need to have held for at least three years).

You will probably find that your family and friends have a bunch of bad habits. Though you should listen to their advice don't pick up their bad habits, you should always listen to your instructor first—they know what you need to do to pass the test and become a good driver.

Insurance

Everyone needs insurance to legally drive on UK roads. If you're learning with a DVSA-approved instructor they'll automatically include the cost of insurance in their lesson price, meaning you won't have to worry about it. But if you're practising outside of lessons you'll need to sort it out yourself. Taking your test in your own car? you'll also need to sort out insurance for the practical test. Again, don't go for the cheapest available - get one that covers everything that you need.

Learner driver insurance offers flexible short-term cover and can often be purchased by the day, week or month, and in some cases by the hour for learners wishing to practice on a more ad-hoc basis.


Driving Test

You have passed you theory test and your instructor thinks you are ready to sit your driving test. If your instructor thinks you need a few more lessons before applying for your test then don't rush it.

Visit gov.uk/book-driving-test for the latest on all requirement and instruction.

There are 5 parts to the driving test:
an eyesight check

'show me, tell me' vehicle safety questions

general driving ability

reversing your vehicle

independent driving
The test is the same for both manual and automatic cars.

You'll drive for around 40 minutes.
Driving test faults and your result

There are 3 types of faults you can make:
a dangerous fault - this involves actual danger to you, the examiner, the public or property

a serious fault - something potentially dangerous

a driving fault - this is not potentially dangerous, but if you keep making the same fault, it could become a serious fault

Pass mark
You'll pass your driving test if you make:
no more than 15 driving faults (sometimes called 'minors')

no serious or dangerous faults (sometimes called 'majors')

Driving Test Tips
Ask to use some of your lessons leading up to your test to do a mock/practice driving test.

Get to know your test routes - You might not know exactly what roads your examiner will take you on but you will have an idea of the area. Practising on a mixture of major and minor roads, country lanes and dual carriageways in different weather conditions around the test route area will help you avoid any surprises on test day.

Make sure you are ready to take your test - if not reschedule when you have had more lessons.

Think about when would be a good time to book your test. To give yourself the best chance of passing. Make sure it falls on a time when you are not preoccupied or stressed with school work, exams, family commitments or anything else.

Get all your doc's ready the night before

Get a good night's sleep

Go over your theory again

Have a lesson beforehand - this will help clarify any last-minute questions you may have. It will also help calm your nerves and put you in the right frame of mind for driving.

Be on time - you don't want the added stress of running late

​Use the car you have been using for your lessons.

Ask your examiner to repeat questions if you need to

Make sure you check those mirrors during the test

Don't assume you have failed, stay focussed through-out the test
You might not pass first time

The pass rate varies, and not everyone passes their driving test on their first attempt. Whether it's nerves or an unexpected hazard on the road, there are plenty of valid reasons why a learner might not pass first time.
Not to worry, hold your head high and brush it off. Have a look at your feedback sheet, have a chat with your instructor and make a plan of what you need to do better on next time. Get a few more lessons to brush up what needs working on and get another test booked in.

Top reasons for failing your driving test:
Not making effective observations at junctions

Failing to judge the speed of an approaching vehicle

Entering a roundabout with a vehicle approaching from the right

Making no effective observations at all

Making no observations when joining a dual carriageway from a slip road

Going straight ahead at a crossroads

Looking too late

Repeatedly not looking left when turning left
Find out more at gov.uk


When you pass

The learning does not stop once you have passed. Passing your test means that you've met the minimum standards set by the DVSA. Driving unsupervised can take some getting used to. Without your instructor's help and their handy dual controls you've got to be even more careful when driving alone. It's takes time and patience. You are going to be travelling on different roads, at different times of day and year, with a lot more distractions in the car like friends and family as passengers, music and time pressure.The list goes on and on. This is the reason we advise that you avoid taking your mates out in your car for a little while and get used to being on the road on your own.


Advanced Driving

They say once you pass you driving test and get our on the roads on your own that that's when they real learning starts. Although it's a bit of a cliche it is true. To help you advance your skills further, we have funded a bespoke session called Road Ready for drivers who have passed and are aged 17-25. The 1 hour 30 min in-car session is aimed at advancing driving skills. It's suitable for young drivers who have been driving for a few years, just passed their test, or need a refresher. Find out more here.

The online magazine contains a wealth on information and top tips ranging from how to apply for your licence, learning to drive, buying and owning a car, and driving when you have passed your test. It includes everything you need to know to get you on the road with the right skills and the right car.
Motorway Driving

Even the most experiance drivers can find motorway driving difficult. ​​Visit drivinghub.co.uk for the low-down on driving on high speed roads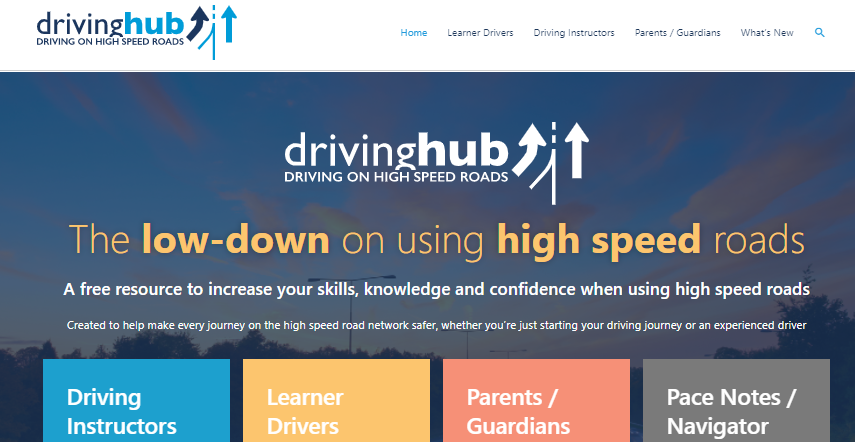 ---