Seatbelts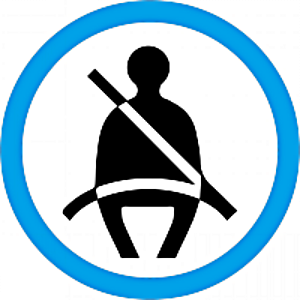 Not wearing a seatbelt is both dangerous and illegal. In a crash you're twice as likely to die if you are not wearing a seatbelt.
You should fasten your seatbelt before you start your engine. You must make sure that an\y children in the vehicle you're driving are:
in the correct car seat for their height or weight until they reach 135 centimetres tall or their 12th birthday, whichever is first

wearing a seat belt if they're 12 or 13 years old, or younger and over 135cm tall
You can be fined up to £500 if a child under 14 isn't in the correct car seat or wearing a seat belt while you're driving. Children aged 14 or older are responsible for putting on their own seatbelts.
Not wearing a seatbelt can be a fatal decision even on short, familiar journeys and at low speeds.
Wear your seatbelt correctly so it can offer you the best possible protection in a crash.
More information about seatbelt law, the penalties for not wearing them and any exemptions to the rules can be found on the government website.