If you ride a motorcycle or scooter you'll know that they can sometimes be the quickest and almost certainly the most enjoyable way to travel from A to B, and with ever increasing fuel costs they can be a more cost effective method of commuting to work or college.
With increasing traffic volumes on our roads it is important that bikers and scooter riders are prepared for the unexpected, particularly when you consider that 75% of rider casualties in the Yorkshire & Humber region occur as a result of a collision with another vehicle.
Training and improving your skills is a life long necessity as a powered two-wheeled rider and the South Yorkshire Safer Roads Partnership (SYSRP) offers a range of sessions to suit all experience and skill levels. Working alongside South Yorkshire Police, South Yorkshire Fire and Rescue and the local Institute of Advanced Motorcyclists groups, we can offer free advice and possible discounts for training at all levels, from learners right through to more experienced riders and this varies from one day refreshers to more long term, planned, training schedules designed specifically for your requirements.
The THINK website has comprehensive advice for motorcycle and scooter riders.
CBT Plus
CBT Plus is a nationally-recognised training programme which builds on the training riders receive through their compulsory basic training (CBT), and aims to improve riders' confidence and skills.
Riders will learn how to spot potential hazards and handle their bikes with greater confidence while overtaking, filtering, cornering and approaching junctions. CBT Plus also highlights the importance of wearing the correct personal protective equipment (PPE) and carrying out basic safety checks.

The training sessions are at least three hours long and are delivered by fully-qualified, local training providers.
SYSRP is currently working on a virtual reality training package - watch this space for any future offers on the course.
If you would like further information about this scheme please contact us.
To view a video that takes you through the training please visit: https://www.youtube.com/watch?v=f-kWEMgUfkg
BikeSafe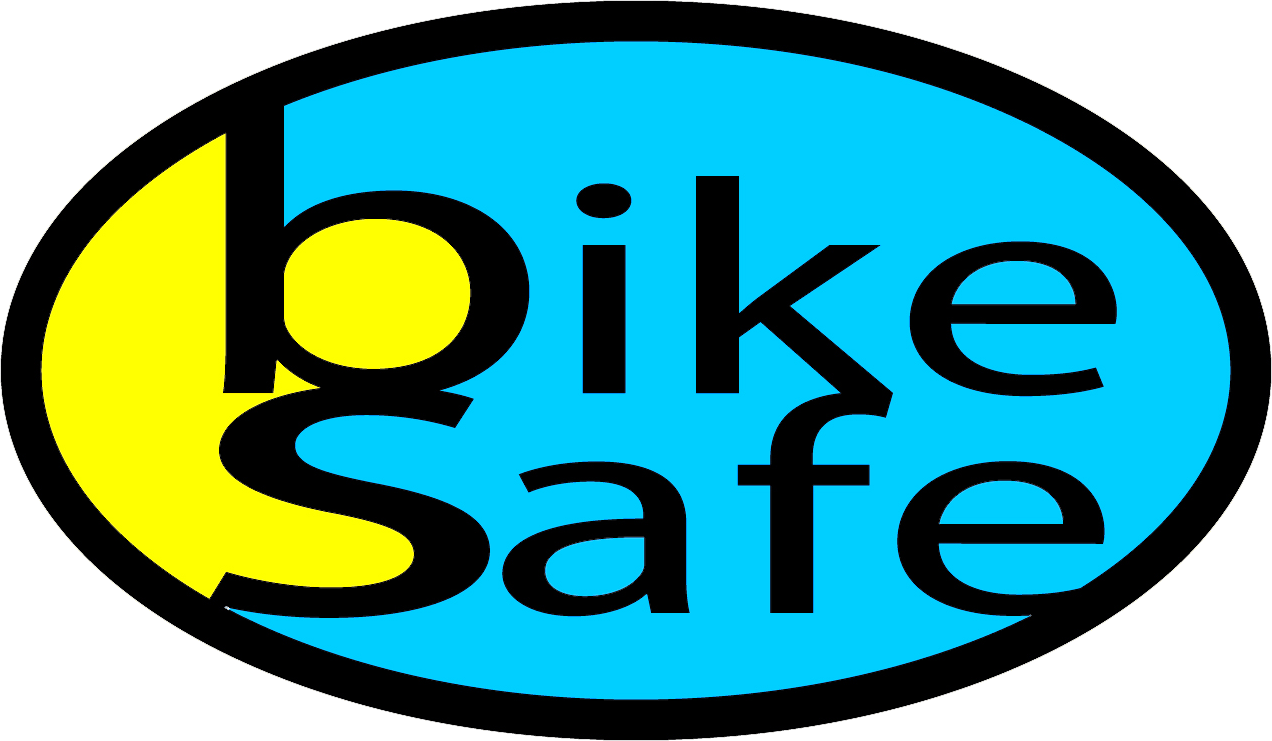 BikeSafe is a police-led motorcycle project that is run by most forces throughout the UK. The main aim is to reduce the number of bikers involved in incidents on the road. South Yorkshire Police believe that riding should be fun but safe, and by improving your own skills, knowledge and hazard awareness it will hopefully make your riding safer and more enjoyable.

The BikeSafe workshop explores the main issues facing today's bikers and explores some of the principles of advanced riding through the on-road element. The BikeSafe Observer will provide an ongoing assessment in a friendly and relaxed atmosphere, plus a written report at the end of the day for the rider to take with them and practice certain areas that they may wish to improve on.

BikeSafe is about starting on the right path to development as it 'Bridges the Gap', encouraging riders to continue to train throughout their riding years and not just stop once they have passed their bike test. BikeSafe provides an ideal starting point from which to learn and discover the right path to improve your riding on an individual basis, whether you are new to biking or have been riding for years.
For more information about BikeSafe workshops visit the website here.
BikerDown!

*BikerDown! South Yorkshire is currently not running due to the COVID19 restrictions. Please check back in the Spring for further updates.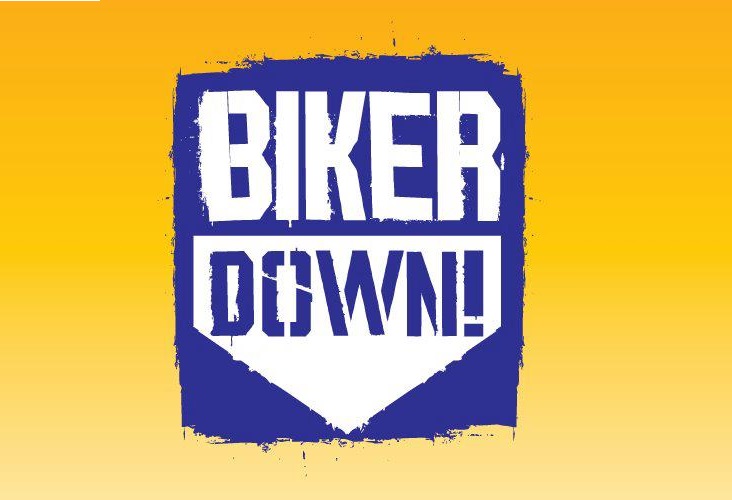 BikerDown! South Yorkshire is a FREE two-hour session aimed at providing all motorbike and scooter riders who live or ride in the county with basic first-aid skills and awareness of road traffic collision management.
The two-hour session is both classroom and practical based, giving you the awareness if you're first on scene at a collision of how to manage the area for everyone's safety, and provide basic first-aid skills if needed.
While themed around a collision involving a rider, the skills and knowledge are equally as useful if you come across any vehicle collision whether four, three or two-wheeled. For example, as a rider you are more likely to filter through stationary traffic and be confronted with a collision as the reason for the build up, or come across an incident on remote country roads.
BikerDown! South Yorkshire is based on the hugely successful initiative originally devised by Kent Fire & Rescue Service, with advice and guidance provided by South Yorkshire Fire and Rescue Service and SYSRP Road Safety Officers.
Sessions take place at the Lifewise Centre in Hellaby monthly on Tuesday evenings from 6:30pm during the motorbike season. See our events calendar for dates.
Our interactive training base provides a unique experience, combining classroom and practical scenario aspects to the session.
BikerDown! South Yorkshire is open to individuals, both riders and pillions, groups of friends or riding clubs, up to a maximum of 12 attendee's per session. If you would like to group book then please drop us an email, or fill in form.
BikerDown! South Yorkshire is entirely FREE and everyone that completes the session will receive a certificate of attendance and a road-safety pack.
First Bike

If you're thinking of learning to ride or already riding, then First Bike is a great resource for answering all those questions from how old you need to be before you can ride a scooter or motorbike, what is a CBT, to what you need to look for when buying a new or second-hand scooter or motorbike - plus much more.
Advice for younger riders
Personal protective equipment and high-vis gear
To ensure that you have a safe and comfortable ride, we recommend that you wear suitable personal protective equipment (PPE) and accessories that are both bright and reflective. We recommend you wear:
A good quality motorcycle jacket
Layers underneath your jacket to stay warm
A lightweight wind-proof as the top layer under the jacket
Waterproofs and gloves
Good footwear with thermal socks
High-vis gear and accessories so that you can be easily seen by other road users
Always wear a helmet! Choosing the right helmet could help save your life. The SHARP website is a government tool to help you make an informed decision about which helmet to choose.
For further advice about motorcycling gear, visit the THINK website.
Speed
Riding too fast for the road conditions contributes to one third of road collisions. The speed limit is the absolute maximum and does not mean that it is safe to ride at that speed in all conditions. Factors such as the weather, the state of the road and time of day should be considered when choosing what speed to travel at.
The faster someone is riding, the longer it will take them to stop if something unexpected happens.
Consider the consequences of causing a collision due to travelling at excessive speed. You will have to live with the emotional consequences of deaths or injuries caused to others.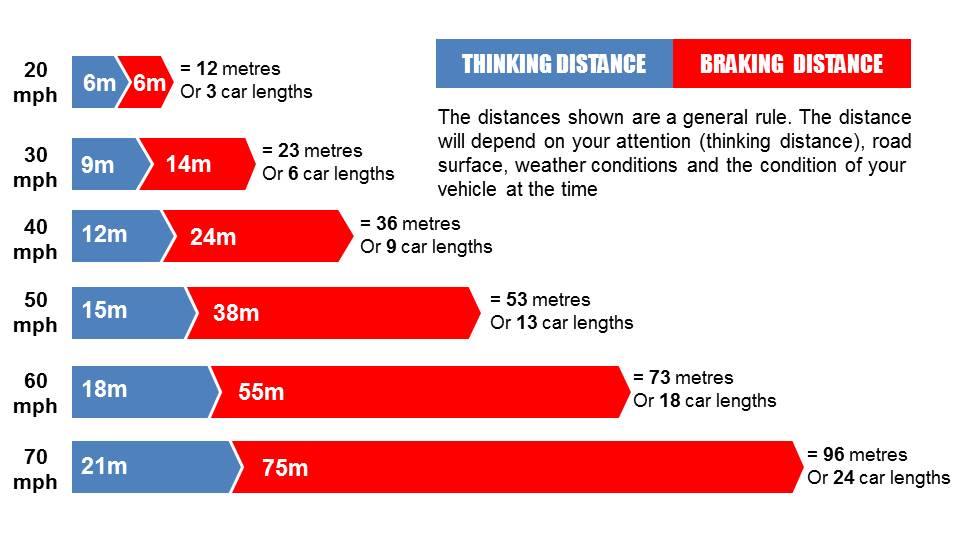 In wet weather the stopping distances are at least double that of when it is dry. In icy conditions it can be as much as ten times greater than on dry roads.
In built up areas with streetlights the speed limit, unless otherwise stated, is 30mph. Be aware of pedestrians or parked vehicles which may suddenly move off or pull out in front of you. Travelling at a lower speed will give you more time to recognise and react to hazards.
On country roads there may be unexpected hazards such as blind bends, blind summits, hidden dips and agricultural traffic.
These tips will help you avoid falling into the habit of riding too fast:
Plan your time and journey so that you aren't running late
Be aware of your surroundings, the more aware you are of the speed limit the less likely you are to inadvertently speed
Learn the typical stopping distances for a vehicle travelling at different speeds.
The minimum penalty for speeding is a £100 fine and 3 penalty points added to your licence. More details about speeding penalties can be found on HM Government website.
Drink riding
There is no safe limit for the amount of alcohol you can have before riding. There is also no way of knowing how long it will take for alcohol to be processed by your body.
Even a small amount of alcohol can affect your reaction times. Though there is a legal limit to how much alcohol can be in a person's system before they can ride, it is impossible to say how many drinks or units it will take to reach it. It is also possible to still be over the legal limit the following day. An average liver can process approximately one unit of alcohol per hour, starting one hour after drinking has stopped. This means that if someone drinks 12 units, it can take them roughly 13 hours to fully sober up.
If you are caught you may banned from riding and driving, have points added on your licence, an unlimited fine, or even imprisonment. This will mean increased insurance costs, potential job loss and even restrictions on travel to other countries such as the United States.
In England, Wales and Northern Ireland the legal alcohol limit for drivers is:
35 microgrammes of alcohol per 100 millilitres of breath
80 milligrammes of alcohol in 100 millilitres of blood
107 milligrammes of alcohol per 100 millilitres of urine
In Scotland the legal limit is:
22 microgrammes of alcohol per 100 millilitres of breath
50 milligrammes of alcohol in 100 millilitres of blood
67 milligrammes of alcohol per 100 millilitres of urine.
You will not be able to ride or drive anywhere in the UK if you have been banned by a UK court for drink riding or driving.
More information about penalties for drink riding/driving is available on the government and South Yorkshire Police websites.
Riding under the influence of drugs
It is illegal to ride if you are impaired by drugs. This includes prescription and over-the-counter medicines as well as illicit substances such as cannabis or cocaine.
Police officers carry testing kits which they can use at the roadside for some illegal drugs. They may make you do a 'field impairment test' in which they will ask you to perform a series of tasks, such as walking in a straight line. If they think you are unfit to ride they can detain you for further blood or urine testing at a police station.
It is the responsibility of the driver/rider to check whether their prescription or over-the-counter drugs can affect them. Always read the label on the packaging of any medicines you are taking. If in doubt speak with a doctor or pharmacist.
Talk to your doctor about whether you should rideif you've been prescribed any of the following drugs:
amphetamine (eg eg dexamphetamine or selegiline)
clonazepam
diazepam
flunitrazepam
lorazepam
methadone
morphine or opiate and opioid-based drugs (eg codeine, tramadol or fentanyl)
oxazepam
temazepam
The penalties for drug riding are the same as for drink riding. If you are caught you may banned from riding and driving, have points added on your licence, an unlimited fine, or even imprisonment. This will mean increased insurance costs, potential job loss and even restrictions on travel to other countries such as the United States.
More information about penalties for drug riding/driving can be found on the government and South Yorkshire Police websites.
Smart motorways
The M1 between junctions 32 and 35a is a smart motorway. It uses technology, such as cameras, sensors and variable message signs to actively manage the flow of traffic.
Smart motorways are managed by regional control centres operated by Highways England. They monitor traffic carefully and can activate and change signs and speed limits. This helps keep the traffic flowing freely.
A sign displaying red X indicates that the lane is closed. If you see a red X closing a lane, move out of that lane promptly. If you don't, you may receive a fine.
A lane might be closed because there is debris in the road, or because of a person or animal on the road. We may be keeping the lane clear for the emergency services, such as an ambulance.
It may not be immediately obvious why a lane is closed, but it is important to follow all instructions given on signs for your own safety and that of others.
When riding on a smart motorway:
never drive in a lane closed by a red "X"
keep to the speed limit shown on the gantries
a solid white line indicates the hard shoulder - don't drive in it unless directed.
a broken white line indicates a normal running lane
if your vehicle experiences difficulties exit the smart motorway at the next available opportunity
use the refuge areas for emergencies if there's no hard shoulder
put your hazard lights on if you break down
Further guidance on how to ride on a smart motorway can be found on the government website.