06 Nov 2020
BRIGHT IDEAS FROM OUR FIRE SERVICE
Our partners at South Yorkshire Fire and Rescue Service are giving bright ideas to young people as part of a joint winter road safety campaign.
Neighbourhood Community Safety Officers from Rotherham and Barnsley have been out and about as part of their annual Dark Nights patrols, handing out reflective bag straps, stickers and arm bands.
The work is part of South Yorkshire Safer Roads Partnership's (SYSRP)
Be Bright Be Seen campaign
that raises awareness about the need to stand out during the darker mornings and winter evenings.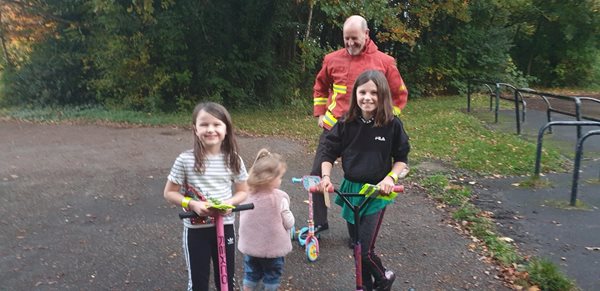 Joanne Wehrle, manager of SYSRP, said: "By adding simple items like reflective straps and stickers to bags or coats, it helps our young people stand out in lower lighting conditions.
"Our Be Bright Be Seen campaign is all about keeping our communities safer as we move into the winter months and face more challenging road conditions.
"Please think about what you're wearing if you're out and about during the darker hours and drivers, please take extra care especially at busy times like the school run."
For more tips and information about Be Bright Be Seen visit
sysrp.co.uk/campaign/bebright
John Lamming (pictured), Rotherham Neighbourhood Fire Community Safety Officer, is seen with young people at Wath Skate Park as part of the fire service's engagement work.