22 Apr 2021
LET'S BACK THINK BIKE WEEK
South Yorkshire Safer Roads Partnership (SYSRP) will be joining Fire and Rescue Services across the country to promote a motorcycle safety campaign ahead of the start of the biking season.

Think Bike Week, organised by the National Fire Chiefs Council (NFCC), kicks off on Friday (23 April) and will highlight key safety messages, including the importance of bike maintenance and wearing the correct riding kit.

Riders will also be encouraged to brush up on their riding skills at a time when many will be returning to the road after a significant break.

Joanne Wehrle, manager of SYSRP, said: "Lockdown has shown just how important riding is to many people and it's great to see so many getting back out there.

"But after such a long break, we all need to be more aware of the need to use the roads more safely no matter how we are travelling.

"The campaign aims to provide help and advice for riders on everything from spotting a fake helmet, to the safest line around their favourite bend."

Nationally, motorcyclists are over-represented in collision and casualty statistics. This road user group forms one of the partnership's priority areas for campaigns and interventions.

Throughout Think Bike Week, the Safer Roads' team will be running an online campaign featuring videos, links and infographics, as well as the usual help and advice on everything from wearing the right kit, to practical riding advice.

"We will also highlight the fantastic range of courses and refresher sessions available to riders in the county, which are starting to become available again," added Joanne.

"This includes the Enhanced Rider Scheme, South Yorkshire Police's BikeSafe courses, and our own local IAM Advanced Motorbike groups, RAM (Rotherham Advanced Motorcyclists), and SAM (Sheffield Advanced Motorcyclists)."

South Yorkshire Fire and Rescue (SYFR) will also support the campaign by displaying Think Bike signs outside fire stations (pictured below the team from Adwick Le Street Fire Station Green Watch, based at Woodlands, Doncaster).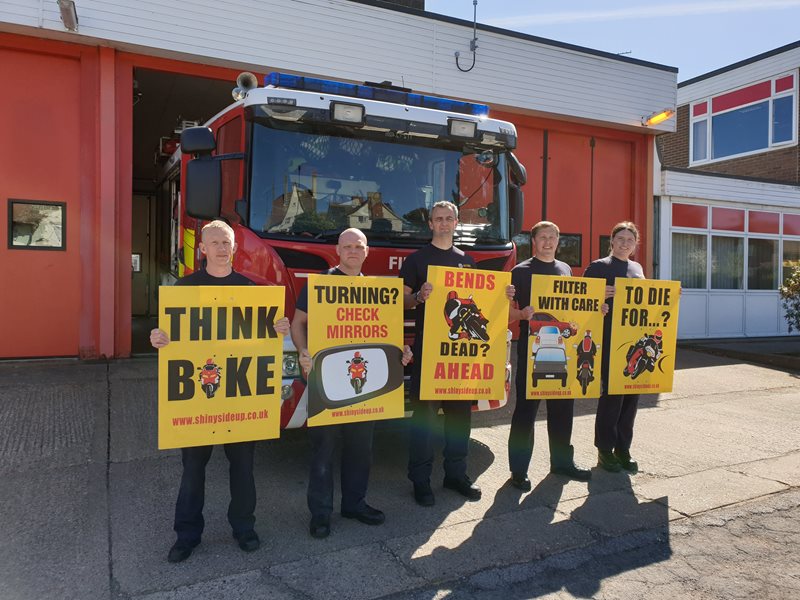 Road Safety lead Gareth Overend said: "We are fully behind the campaign from a road-safety perspective but also as many of our officers are keen riders.

"Many of our stations are located on popular commuting or leisure riding routes so the signs will be a great reminder to all road users.

"When restrictions allow, we will also restart our award-winning BikerDown! sessions, for all road users in South Yorkshire."

More than 40 other agencies across the UK will take part in the initiative which will run until Monday 3 May.

Tony Crook, NFCC Lead for Road Safety added: "This campaign at the beginning of the motorcycling season is a great opportunity for all partners to deliver a range of safety messages across the UK.

"With increasing numbers of people taking to two wheels, our aim is to encourage riders to do all they can to stay safe."

To find out more about Think Bike Week visit: https://www.facebook.com/thinkbikeweek or follow #thinkbikeweek on Twitter.