17 Jun 2021
DAWN UNTIL DUSK 2-WHEEL CHALLENGE
A road safety officer is planning to ride around all 21 South Yorkshire fire stations in one day on a 125cc Monkey Bike, in a bid to raise money for a cause close to our hearts.
Young Rider officer John Furniss, from South Yorkshire Safer Roads Partnership (SYSRP), is planning the dawn until dusk challenge to drum up funds for the National Emergency Services Museum in Sheffield (NESM).
The event, on Monday 21 June, coincides with Ride to Work Day – a national event aimed at raising awareness of the benefits of commuting on two wheels.
John said: "I wanted to do something that would put the focus on Motorcycle Action Group's (MAG) annual Ride to Work Day as well as raising money for our brilliant NESM.
"The Museum, which is a charity, relies on support from the public so I hope that people will sponsor my ride and help our colleagues in Sheffield to keep this fantastic facility going.
"It really will be a sunrise to sunset event as I plan to start from the Lifewise Centre in Rotherham, travel to all 21 fire stations, plus two of our training centres and the Museum before finishing up back at the Lifewise Centre.
"All on a Learner level 125cc Honda Monkey Bike, so no cheating and using the Motorways."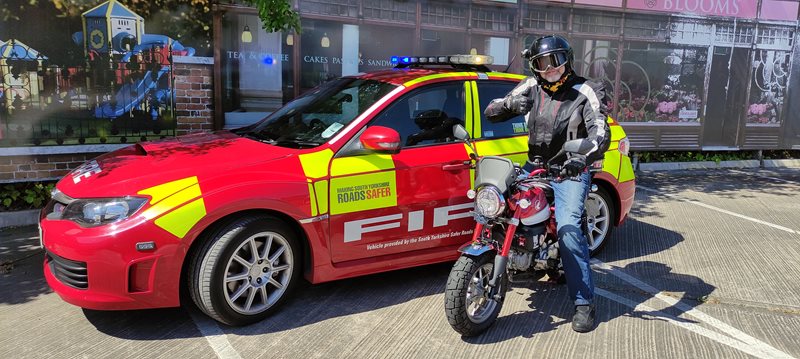 All funds from John's challenge will go towards the NESM – an independent, self-funded museum and charity dedicated to celebrating and preserving the history of the emergency services and their communities, in peace and war.
The museum, which is the largest of its kind in the world, is housed in a historic combined police, fire and ambulance station in Sheffield City Centre. The building dates back to 1900 and has preserved a number of original features, such as the Victorian police cells and engine house.
Ride to Work Day (which is also on the Longest Day) originated in America in 1992 as a way of helping people to find alternative ways to commute to work.
MAG co-ordinates the event in the UK sharing tips and information about travelling via motorcycle including the impact on finances as well as well-being.
A MAG spokesman said: "Motorcycles and scooters offer a COVID-safe way to travel with more and more commuters turning to motorcycles due to their social, economic and environmental benefit.
"Ride to Work Day encourages people to give it a try and help reduce congestion for all road users by forgoing the car and choosing a motorcycle.
"By travelling on two wheels, you will reduce carbon emissions and improve air quality in towns and cities. In addition, reduced congestion will improve mental wellbeing for work forces and create massive economic savings for the country.
"But if you still want to stay in your car, please remember to look out for and give space to those that are riding."
To support John on his challenge visit:
www.visitnesm.org.uk/support