When you are out and about near roads it is important that other road users can see you when it is dark, poor visibility or if you are out on your bicycle. During the winter months, you are more likely to be outside so this is something to think about.
So, what can you do to be safer on the roads? Firstly, wear bright colours! Fluorescent or neon colours are better.

These colours can help drivers to see you better if it is dull and grey outside. Fluorescent colours are good in daylight and help you to be seen by all other road users. Here are some examples of what you could wear to be bright: jackets, hats, bags and even stickers.
Check out
BrightKidz
website, they have lots of Fluorescent items you can buy.
Secondly, we have to have something
reflective
! To be seen well when it is dark, it is better to wear reflective materials that glow brightly when lights shine on them.
Jobs that require people to work outside often have uniforms that have reflective material on them.
Take a look at the picture of the School Crossing Patrol Warden below. Can you see how their uniform is 'glowing' with the car headlights shining on it? Even the lollypop sign is reflective so it can be seen clearly.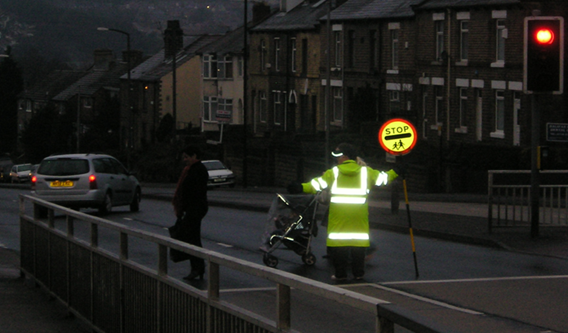 Remember - The best way to keep yourself safer on our roads is to wear something bright and reflective and also cross the road in a safe, well-lit place, using a special pedestrian crossing where you can. Finally, always remember to Stop, Look, Listen and Think!
Ideas of how you can promote Be Bright Be Seen in school:
Ask if you can do an assembly on being bright and being seen

Run a competition for everyone to get involved in

Have a Be Bright Be Seen fashion show where everyone comes dressed as bright as they can!

If you decide to do an activity for Be Bright Be Seen, make sure you tell us about it and we can include you in the next newsletter.